MY CHEMICAL ROMANCE
WORK IN PROGRESS

In September 2001, Gerard Way was working on a show pitch for Cartoon Network between his job as a toy designer. While waiting for the ferry to take them to the New Yord Cartoon Network location so they could continue workshopping Breakfast Monkey (the aforementioned show pitch), A plane crashed into the world trade center. Then another one, bringing both towers down in a pile of rubble and bodies right in front of his eyes. Everyone waiting for the ferry was ushered back to the trains, through the turnstiles, whatever they had planned for the day or week or rest of their lives changed forever, now in the rubble with what the world used to be. Gerard Way sat quietly, trying to process. On this train, is where gerard decided he felt he was wasting his life, that he needed to do something big, that the universe was calling him somewhere outside of the small cubicles and isolated art rooms he had been creating in before.

This is where My Chemical Romance was born


GET THE GANG TOGETHER: THE CORE FOUR AND THE ATTIC DEMOS
To go forward, first we must go back. The moment, for me, the spark of My Chemical Romance was born was not when Gerard wrote Skylines and Turnstiles, nor even when they witnessed the destruction of the twin towers. No, I believe the core sparks of mcr were two concerts that happened before the turn of the millennium even hit. The first was a small, shitty punk show. Mikey Way managed to drag his older sibling Gerard out to a local shitty punk show for semi-forgotten teen toilet punk band The Rodneys

The band was mostly unremarkable, simple lyrics filled with gay jokes and toilet humor and star wars references set to out of time drums, the guitar holding everything together.It was the guitar that caught Gerard and Mikey's attention. In between songs, the guitarist Ray Toro, face hidden behind his Jersey Devils baseball cap, would play quick little riffs, the muppets show opening song or the theme music to jurassic park. His playing was effortlessly impressive, and Gerard knew immediately one day they would want to make music with him

Before MCR, Gerard and Ray would work together multiple times, both in a short lived punk band named Nancy Drew, and with Ray helping Gerard create music for his animation pitch Breakfast Monkey, but no project quite stuck.
I BROUGHT YOU MY BULLETS, YOU BROUGHT ME YOUR LOVE
I Brought You My Bullets, You Brought Me Your Love was released on July 23rd. Lead single Vampires Will never Hurt You, was a dark, theatrical six minute goth rock track, full of strange poetic lyrics circling alcoholism death and never getting away from your own life.

CEMETARY DRIVE: THE TOUR LIFE
MCR produced Bullets for one reason: to have an album to tour on. In short, (or until I choose to do more research to expound with more direct facts), touring was hell
THREE CHEERS FOR SWEET REVENGE
Three Cheers For Sweet Revenge was released on June 8th 2004
BLOWING THE FUCK UP: THE GREATEST SUMMER JAM OF ALL TIME
Three days before the filming of the official music video for I'm Not Okay, My Chemical Romance found their new drummer in Bob Bryar, a chicago native and sound tech by trade. Some fun facts about Bob Bryer: He used to be roommates with Patrick Stump, He got major burns on the set of Famous last words, causing him to contract a case of gangrene that had him hospitalized, He once made a joke regarding Mikeys divorce underneath mikeys tweet celebrating a full year sober, and he is actively racist, openly mocking the Ferguson protests and black lives matter at the time when they began. I will not be giving Bob Bryar that much attention.

WHATEVER HAPPENED TO BABY JOAN: THE PARAMOUR MANSION
THE BLACK PARADE
The Black Parade was released on October 20th, 2006
WELCOME TO THE BLACK PARADE: THE G NOTE THAT SHOOK THE WORLD
THIS IS HOW I DISSAPPEAR: THE ENDLESS BLACK PARADE TOUR AND PROJEKT REVOLUTION
The Black Parade tour went on for almost 2 years straight, almost broke up the band, and was so grueling that it caused MCR to fire their longtime manager, Brian Schecter.


THE LIFE AND DEATH OF CONVENTIONAL WEAPONS
After the exhausting experience of the years spanning black parade tour, MCR chose to take a short hiatus. Over the course of the tour, 3 of the members got married and during the hiatus, Ray Toro also married his long term girlfriend Christa. During this time, Frank had a short stint in Hardcore band Leathermouth(whick I'll be discussing in another section another time
DANGER DAYS: THE TRUE LIVES OF THE FABULOUS KILLJOYS
Danger Days was released on November 22nd, 2010. It Is a 15 track concept record set in an alternate, post apocalyptic 2019.
IN PAPER ARMOR THAT YOU'D MIND: THE LOST WORLD OF THE PAPER KINGDOM
The Paper Kingdom is a bit of a mystery to this day, the lost 5th mcr album, what it could've been, and what we know about it could warrant a page of its own
THE END.
On March 22, 2013, There was a new update on the My Chemical Romance Website.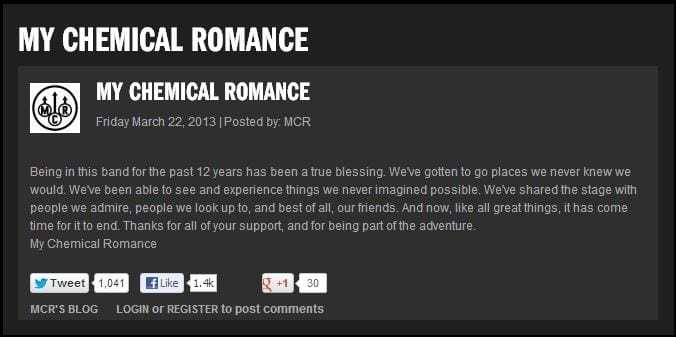 The reaction from fans was immediate. A mix of confusion, greif, and anger overtook the fandom. memorials were created, fights were had, and many tears were shed. 2 days later, Gerard posted a twitlonger on his twitter account titled A Vigil On Birds And Glass (linked here). A poetic essay, acting both as an explaination and a loving goodbye to MCR for the fans as well as for himself.
All of the Members of MCR have released solo projects: Gerard Way released Hesitant Alien, Their first and only full length solo music project and one of my all time favorite albums, as well as having the namesake lyric for my website. Gerards post mcr output also includes B-sides, various singles, comic work for DC, Marvel, and Dark Horse, as well as being Executive Producer for the Netflix hit show The Umbrella Academy. Under DC, Gerard also created and managed DC imprint Young Animal After getting clean, Mikey formed the band Electric Century, which has released 2 full projects. He also wrote the comic book Collapser under Gerard's imprint Young Animal.
Ray's first work released after MCR's end was a single named For The Lost And Brave released for trans teen Leelah alcorn after news of her suicide became headline news. He also released solo album Remember the Laughter (which is wildly underrated in my opinion) in 2016. Hes also done collaborations with both Gerard Way of Well You Know and project E.A.R (East Asian Revolution), which is a musical collective featuring East Asian leading artists. Frank has done the most music wise post MCR. Changing band names for each album, He has released Stomachaches as Frank Iero and the Cellebration, Parachutes as Frank Iero and the Patience, and Barriers and Heaven Is a Place as Frank Iero and the Future Violents. He was also in a duo digital hardcore project called Death Spells with former MCR member and kinda shitty guy James Dewees. Together they released a single project titled Nothing Above, Nothing Below, Which is another one of my all timer albums.
Though the breakup was difficult, it was necessary. MCR had grown out of control, and became actively harmful to the members health and sanity. Between that and qall of the members getting married and having kids, living the big time rockstar lifestyle just wasn't possible anymore. All of the members made great art and lived full, happy lives outside of the band. Mcr may have ended with a sputter, but it ended peacefully, with everyone alive and mostly intact. Most importantly for the boys, it ended with everyone as friends, going so far as to have yearly MCR bbqs starting in 2016. Mcr ended, after everything, with dignity and love.
...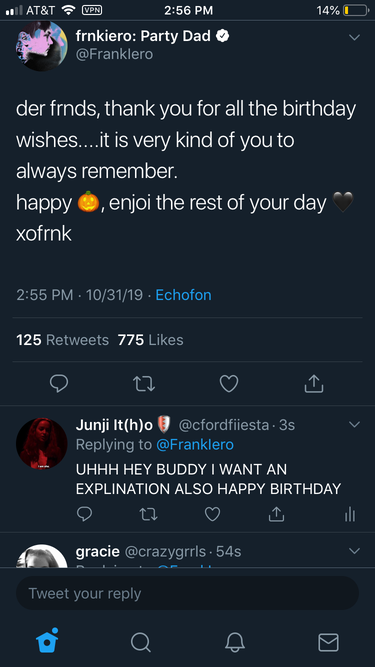 WAIT HOLD ON.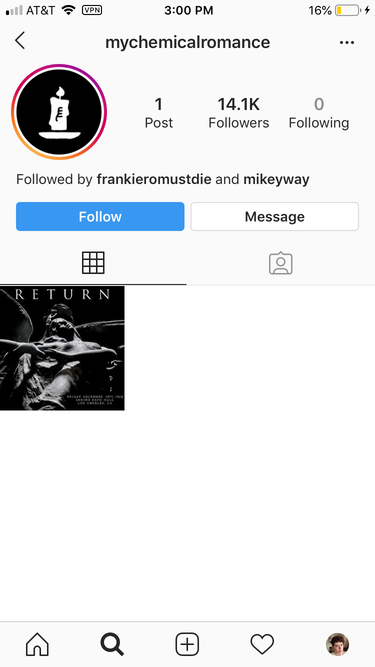 NEVERMIND.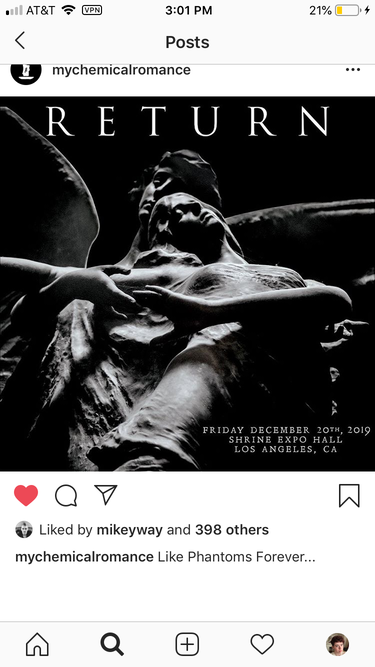 FAKE YOUR DEATH: THE SHRINE SHOW AND THE UPCOMING TOUR
IM SICK SICK: THE PANDEMIC AND FAN HYSTERIA
THE FOUNDATIONS OF DECAY
LET THIS WORLD EXPLODE: THE 2022 MY CHEMICAL ROMANCE REUNION TOUR
TANGENT - MISTER EISNER WANTS A DIET COKE: GERARD AND COMICS
TANGENT - REBELLIONS NOT A TSHIRT YOU SELL (BUT IM STILL BUYING): MCR, MERCH, AND A REVIEW OF THE MY CHEMICAL ROMANCE HIPDOT COLLABS
TANGENT - IT BETTER BE JUST MY SIZE: GERARD SLAY AND THE COSTUMES OF MY CHEMICAL ROMANCE